Here at Dallas Landscape Lighting we are your source for specification grade low voltage outdoor lighting components! We believe our Landscape Lighting provides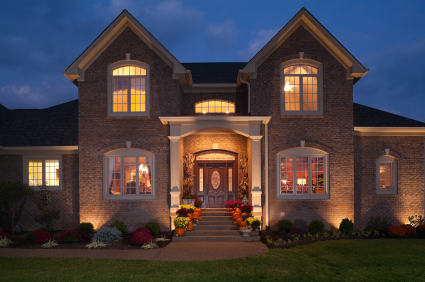 the lighting buyer with the highest value. By combining superior materials, finish, workmanship and the industry's best lighting products you can be confident that Landscape Lights Dallas is the right choice for your custom residential or commercial outdoor lighting project.
Landscape lighting is a great way to bring out any focal point in your landscape or garden. Out door lighting (low voltage lighting) will save you money while providing time, safety, security and beauty to your home.
Benefits of Outdoor Lighting
Lights adds time... Lighting leverages your landscape investment by extending the hours you can spend relaxing or partying outdoors.
Lights adds safety.... Do your houseguest stumble over the steps coming in? Lighting provides a safe path around toys, raised sidewalks, pool decks or other obstacles near your walkway.
Lights add security... Potential bugulars will pass by a well-lit property, assuming someone is home. Your lighting system will work for you even when you are out of town.
Lights add beauty... The aesthetic charm of lighting your home and landscape at night is magical. Landscape lighting brings out the beauty of your property and home, creating shape and mood.
Advantages of Landscape Lighting
Why we exclusively use low voltage lighting systems.
Low Voltage Landscape Lights
Low Voltage Advantages (12 volts)
Small, concealable fixtures are easy to hide within the landscape
Flexible fixture positioning allows easy movement as landscape matures
No need to bury fixtures or supply cable
Safe around water fitures
Less damaging to root systems
Pinpoint accuracy of light sources
Energy efficient - more light per watt
Disadvantages
More expensive initial cost for material - transformer needed
Line Voltage
Line Voltage Advantages (120 volt)
Low Initial material cost
Inexpensive lamps
Can access more power
Disadvantages
High operational costs over time
Must trench and distribute wire in conduit 18" below ground for protection
Expensive to move or relocate fixtures as landscape matures
Need a junction box for each fixture
More glare is produced due to lamp construction
Less controllable light